Micro-Coaxial Cable
As a custom manufacturer, Heatsense is able to accommodate specific customer requirements. Recently processed were orders from two different customers for 50 Ohm Micro-Coaxial Low Noise Cable. Both orders required seven strands of 0.050mm (44 AWG) silver plated copper, however one needed a stainless steel reinforced centre strand in place of the SPC. This is a very minor difference in term of process however it does change the cable characteristics notably.
Once stranded, the PTFE insulated cable was coated with a low noise conductive coating before a 95% minimum coverage silver plated copper braid was added. The cable was then jacketed with FEP with a finished OD of 1.0414mm ±0.0762mm.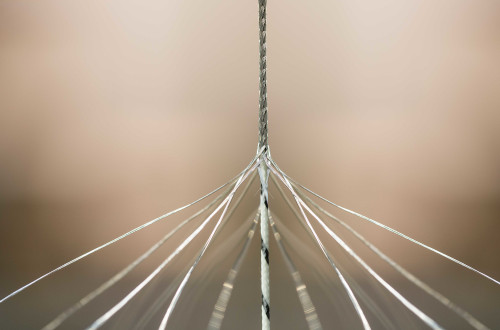 This type of customization is a common practice for our facility bur requires a minimum order quantity of 1.5km and can be completed with a lead time of approximately eight weeks.
Product Description: Shielded Low Noise Coaxial Cable
Overall Part Dimensions: Diameter 1.0414mm
Tightest Tolerances: ±0.0508mm
Material Used:

44/144 10% Soft Silver Plated Copper
44/144 Soft 304 Stainless Steel
95% Coverage 10% SPC Shielde

 Material Finish:

Teflon® PTFE (polytetrafluorethylene)
Conductive Low Noise Coating
FEP (fluorinated ethylene propylene) Jacket
Notes: These products are usually made to an impedance specification as they are used for High-Frequency signals. Generally, they are 50-ohm or 75-ohm impedance. The impedance is based on the relationship between the size of the centre conductor, the insulated diameter of the core and the insulation material of the core. Generally, PTFE is used as it has the best dielectric properties.
This coaxial construction has been highlighted due to the difficulties of working to these sizes and tolerances.